Submitted by dmcfarland on Sun, 12/01/2013 - 7:45am.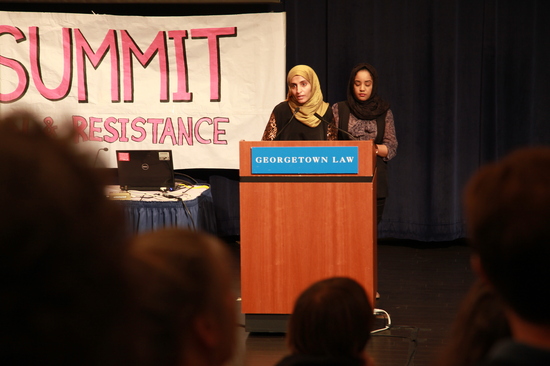 Entesar al Qadhi addresses the crowd at Code Pink's second annual global drone summit at Georgetown University's Law Center. Al Qadhi represents the Mareb Governorate in North Yemen, an area heavily targeted by US drone attacks in recent years. Photograph: Daniel Medina
Within view of the U.S. Capitol and just a little more than a mile from the White House, hundreds of of anti-drone proliferation activists, academics, lawyers and concerned citizens from all over the world gathered this weekend for the second annual drone summit.
The conference, co-sponsored by the peace and social justice movement Code Pink and the National Lawyers Guild amongst others, was held at a full capacity auditorium at the Georgetown University Law Center in northwest Washington. Attendees, clad in the organization's ubiquitous pink t-shirts and stickered attire, listened in on high-profile speakers and from panels of experts who confronted the thorniest issues related to the CIA's largely clandestine drone program, ranging from the legal challenges to drone strikes to the questions surrounding privacy with surveillance drones.
Filed under:
Submitted by dmcfarland on Sun, 11/24/2013 - 8:23am.
Activists gathered in Cambridge on Nov. 20 to discuss the projected agreement among the US, Iran and other powers to put Iranian development of its nuclear power program on hold in exchange for release of billions of dollars of frozen assets. Peace activists greeted the development as a rare opportunity to make some real progress. This could be the first step towards a larger, more permanent settlement leading to a significant relaxation of tension in the region. Israel and Saudi Arabia are adamantly opposed to the agreement, along with the many Israel supporters in Congress.
Filed under:
Submitted by ujpadmin on Thu, 11/21/2013 - 12:41pm.
Today the U.S. is NOT bombing Syria. Yes, the U.S. is still training armed groups to send into Syria. It is maintaining severe sanctions. Its warships patrol the area. And CIA spooks of all kinds roam the whole region while commando attacks take place in nearby countries.
But today we are not bombing Syria. This fact, which seemed so unlikely to be true just weeks ago, is due to the widespread public opposition to this war in the U.S. and abroad which for the first time thwarted the desires of an American president to go to war.
Filed under:
Submitted by ujpadmin on Thu, 11/21/2013 - 12:41pm.
UJP has signed on to the following statement, along with many other organizations including US-Campaign to End the Israeli Occuption, of which UJP is
a
member organization:
Statement: CCR, PSLS, 64 other rights groups sign statement opposing indictment of Palestinian-American activist Rasmea Odeh
The below-signed organizations are deeply disturbed by and stand opposed to the indictment yesterday ofRasmea Yousef Odeh, a Palestinian-American community activist who has dedicated 10 years to the Chicago Arab-American community, working with women on issues ranging from promoting literacy and political education to addressing domestic violence and anti-Arab and Muslim sentiment.
Rasmea's indictment for alleged immigration fraud comes at a time when advocates for Palestinian rights and immigration rights activists have been facing increasing pressure all over the country. Exactly three years ago, 23 anti-war and Palestinian rights activists were subpoenaed to testify before a Grand Jury and several of their homes were raided by the FBI. There have been no indictments against the 23 activists subpoenaed in 2010, presumably because of a lack of evidence. It is no coincidence that federal prosecutors are now targeting Rasmea, who is a pillar in the same community.
The 2010 raids, the Grand Jury subpoenas that accompanied them, and this indictment against a 65 year old woman who suffered for a decade in Israeli prisons before coming to the U.S. in 1995, are a clear signal that federal authorities, along with Israel and its supporters in the U.S., are continuing to search for ways to intimidate and silence those who are effective advocates for Arab American communities, and who speak out for Palestinian rights.
Filed under:
Submitted by Joel Wool on Fri, 11/22/2013 - 9:05am.
A November 17 article in the Boston Globe titled "In Israel, water where there was none" detailed the emerging water partnership between Massachusetts and Israel, a union sparked by Governor Deval Patrick's visit to the Holy Land on a 2011 trade mission. It's a picturesque chronicle of the events leading up to today—one that erases, in entirety, the experiences of low-income people in the United States or Palestinians on the far side of the sea. The Globeomits any mention of disparities in access to water, or state policies that allow select segments of the population the power to direct how the current flows.
Massachusetts
In 2009, the state passes legislation creating the Water Infrastructure Finance Commission, a body tasked with developing "a comprehensive, long-range water infrastructure finance plan for the commonwealth and municipalities." The commission, staffed by a mix of industry, advocates, progressive legislators and state administrators, identifies a $20 billion dollar gap in funding for water infrastructure over the next 20 years, and outlines the need to invest, innovate, tackle challenges of affordability and promote a greener future.
Think reports about the decaying water infrastructure in the first-world are overstated? They aren't. The same day it released an article on the Israeli partnership, the Globe reported a significant water main break in the theater district. A video of a South Boston water main break and the fallout from a "catastrophic rupture" that left 2 million people with a boil-water order, reveal the same problem: the pipes are falling to pieces.
Yet even as municipalities feel the pinch of a growing water budget and shrinking pocketbooks, it's rare that equity, affordability and access get the attention they deserve.
Filed under: