Submitted by Suren Moodliar on Sat, 12/07/2013 - 7:35am.
Some years ago, at the heart of a South African region once aptly nicknamed the "generator of the revolution," tourism boosters proposed the erection of a giant, Statue of Liberty-scale Mandela figure triumphantly looking out onto Nelson Mandela Bay and the Indian Ocean beyond it. The statue was to have replaced a hazardous manganese-ore shipping terminal. Mined in the ecologically fragile Northern Cape, the ore is railed South to Port Elizabeth where it is stored for exportation. How fitting it must have appeared then that Nelson Mandela's statue should supplant the ore dump - a toxic node in a global economy where health and environment are incidental to returns on investment. But that was not to be; the statue remains an artist's sketch and metropole-bound freighters continue to dock. The next super-sized city project to engage the future Nelson Mandela City's imagination is a white elephant, a giant soccer stadium built for the World Cup. But the story captures South Africa's and the world's difficulty in handling the contradictory Mandela legacy: genuine hope powered by struggle, shameful compromise camouflaged by revolutionary imagery.

The mainstream narrative of Nelson Mandela is a fairly straightforward story of an indomitable character challenging and eventually overcoming life's challenges. "There were many dark moments when my faith in humanity was sorely tested, but I would not and could not give myself up to despair. That way lays defeat and death." And so Bill Clinton can write, that Mandela is "a rare human being who, in freeing himself of his demons, also became free to give his extraordinary leadership to his country and the world." So Mandela, in the mainstream narrative, can rightly be portrayed as a revolutionary individual eclipsing all others much like the anticipated statue.

But this is not the whole story.

Filed under:
Submitted by dmcfarland on Tue, 12/10/2013 - 3:46pm.
When: Thursday, December 12, 2013, 7:00 pm to 8:30 pm
Where: Center for Marxist Education • 550 Mass. Ave. • floor # 2 • Cambridge
China Discussion Group

Danger in the Sky over the East China Sea; Is China/Japan/US Conflict on the Horizon?

Thursday, December 12th – 7 to 8:30 PM

550 Mass. Ave., floor 2, Cambridge (Central Square)

Filed under:
Submitted by dmcfarland on Sun, 11/24/2013 - 8:23am.
Activists gathered in Cambridge on Nov. 20 to discuss the projected agreement among the US, Iran and other powers to put Iranian development of its nuclear power program on hold in exchange for release of billions of dollars of frozen assets. Peace activists greeted the development as a rare opportunity to make some real progress. This could be the first step towards a larger, more permanent settlement leading to a significant relaxation of tension in the region. Israel and Saudi Arabia are adamantly opposed to the agreement, along with the many Israel supporters in Congress.
Filed under:
Submitted by dmcfarland on Sun, 12/01/2013 - 7:45am.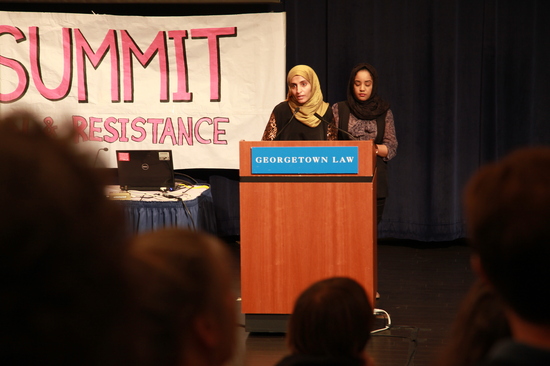 Entesar al Qadhi addresses the crowd at Code Pink's second annual global drone summit at Georgetown University's Law Center. Al Qadhi represents the Mareb Governorate in North Yemen, an area heavily targeted by US drone attacks in recent years. Photograph: Daniel Medina
Within view of the U.S. Capitol and just a little more than a mile from the White House, hundreds of of anti-drone proliferation activists, academics, lawyers and concerned citizens from all over the world gathered this weekend for the second annual drone summit.
The conference, co-sponsored by the peace and social justice movement Code Pink and the National Lawyers Guild amongst others, was held at a full capacity auditorium at the Georgetown University Law Center in northwest Washington. Attendees, clad in the organization's ubiquitous pink t-shirts and stickered attire, listened in on high-profile speakers and from panels of experts who confronted the thorniest issues related to the CIA's largely clandestine drone program, ranging from the legal challenges to drone strikes to the questions surrounding privacy with surveillance drones.
Filed under:
Submitted by ujpadmin on Thu, 11/21/2013 - 12:41pm.
Today the U.S. is NOT bombing Syria. Yes, the U.S. is still training armed groups to send into Syria. It is maintaining severe sanctions. Its warships patrol the area. And CIA spooks of all kinds roam the whole region while commando attacks take place in nearby countries.
But today we are not bombing Syria. This fact, which seemed so unlikely to be true just weeks ago, is due to the widespread public opposition to this war in the U.S. and abroad which for the first time thwarted the desires of an American president to go to war.
Filed under: